The home loan that changes the way you
think about your personal finances
NOTE: Acorn does not charge a loan establishment fee.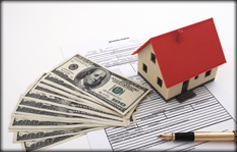 The traditional approach to arranging your finances is to keep separate accounts for borrowing, saving and everyday transactions.
This can mean you end up paying multiple fees, as well as being charged for moving your money from one account to another. It also means that any interest on your savings is negated by the higher rate of interest you pay on your borrowings.
A Go home loan from Sovereign (a member of the ASB Bank group) takes a customer-focused approach, by combining your loan and transaction account into one.
One account is all you need
By using your Go account in conjunction with your credit card, you'll  find that Go is the only transaction account you'll need.
Here's how it works:
You can pay all your salary (and any other income) directly into your Go Floating Rate account (you can choose to use a separate bank account if you prefer). Throughout the month you use your credit card for all your everyday purchases (groceries, petrol, lunches, etc), and any major purchases you need to make.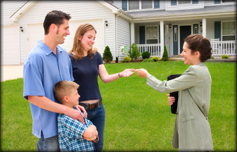 You then 'redraw' the funds available in your Go account as you need them to pay your bills, including your credit card bill. You can also redraw any cash you need via ATMs. And if you have a Go Fixed Rate loan, you can make your fixed loan repayments out of the same account.
How redraw works
If you've paid all your income into your home loan, how are you supposed to find the money to pay the bills, make everyday purchases or save for a holiday? That's where redraw comes in.
Your Go Floating Rate loan has a 'borrowing limit' which reduces over time. You can take money out of your account ('redraw') as often as you like, as long as you stay within your reducing borrowing limit.
To keep your Go home loan on track, you need to repay a minimum amount each month. If you only ever make this minimum repayment, you loan balance will stay within its borrowing limit but you won't have any funds available to redraw.
However, if you repay more than the minimum amount each month, you loan balance will fall below your borrowing limit. The difference between your actual loan balance and your borrowing limit is the amount you have available to redraw. And the good new is that you save interest on this amount.
For example:
| | |
| --- | --- |
| Original amount borrowed | $150,000 |
| Your borrowing limit after 1 year of minimum repayments only | $145,000 |
| Actual balance after 1 year of extra payments | $130,000 |
| Amount available to redraw after 1 year | $15,000 |
*These figures are an example only. Our consultant can show you how your Go home loan might perform over time.
Is redraw the same as revolving credit?
No. Redraw is different to a standard revolving credit loan.
With a revolving credit loan you can redraw up to your original loan amount. Some people find they don't have the discipline to manage this kind of loan – they are tempted to continually redraw back up to their original loan amount and so can take a lot longer to pay off their loan, or worse still, never reduce their loan balance at all.
With a Go Home Loan you borrowing limit reduces over time. This makes it much easier to control and, if you don't redraw up to your borrowing limit, means you pay off your loan a lot sooner.
The home loan that can save you money
Pay less interest
On any home loan you pay interest, which is calculated on your loan balance. The lower your loan balance, the less interest you pay.
A Go Home Loan helps you keep your loan balance as low as possible for as long as possible.
Over the term of your loan this can lead to substantial savings on interest payments and take years off your loan.
Enjoy competitive rates
To help keep the cost of your home loan to a minimum, Sovereign offers very competitive interest rates on both Go Fixed Rate and Go Floating Rate loans. For the latest rates email us.
Say goodbye to bank fees
A Go Floating Rate loan can also help you reduce or even eliminate bank fees.
1. Free Go Online and Go Phone. – Your payments using Go Online or Go Phone are currently free of charge. This includes automatic payments, bill payments, direct debits and eCheques*.
2. No set-up charges. – What's more, you won't get charged a base fee, and there are currently no establishment fees to set up or change bill payments, automatic payments or direct debits.
3. Free ATM and EFTPOS transactions. – EFTPOS transactions and transactions at ASB Bank ATMs are also free of charge.
Please CLICK HERE to enquire further.
"Mike was the first Insurance Adviser to take the time to explain the insurance options in a way that I could easily understand. So I bought some insurance from him and he saved me heaps on my premium."
– Dan Sutherland, Christchurch